Portrait Pricing
We love that our clients come to us to have their portraits commissioned to celebrate all the beautiful moments that life has to offer. The initial fee includes what it takes for us to create and tailor your unique portrait experience for the moments you most want to celebrate. That looks different for each of our clients based on how they want to be photographed and with whom they want to be photographed. Our session fee is all inclusive and is designed to ensure you leave with a beautiful custom portrait.
If you choose to upgrade to a collection of images, your session fee will be used as credit toward an image collection of your choice, if used at your ordering session. You are not required to purchase a collection. You only purchase what you want.
All final images are professionally and fully retouched.
We want your time with us to be an enjoyable and luxurious experience! Below you'll find information about the day of your session, our session fee and pricing menu.

$299
Session Fee Includes
Portrait Session
Wardrobe Consultation
Complementary Hair & Makeup for One*
Same Day Ordering Session
10×15 Wall Art ($299 Value) or $299 Ordering Credit**
*The complementary hair and makeup for one is available if the shoot is booked and scheduled at least 3 weeks in advance from the session date.
**Ordering credit must be used during your ordering session or it is forfeited.

Below you will find our portrait collections. You may apply your ordering credit ($299) from the session fee to any of these collections or wall art of your choice. If you wish to purchase a collection, you will do so at the ordering session. A decision on if you upgrade is not required before you book your session. You will decide if you want the one print (10×15) that comes with your session fee or if you would like to upgrade to a collection or larger wall art after you have viewed the portraits from your session.
All Collections Include
Matted Archival Prints
(6×8 Prints Matted to 8×10)
Matching Digital File
Portrait Display Case*
An American Walnut wood case with tempered glass and soft close hinges.
*The 5 Portrait Collection includes a different case than pictured below.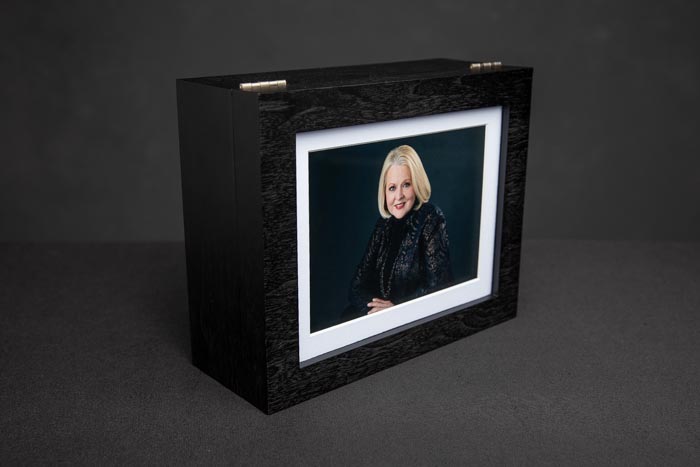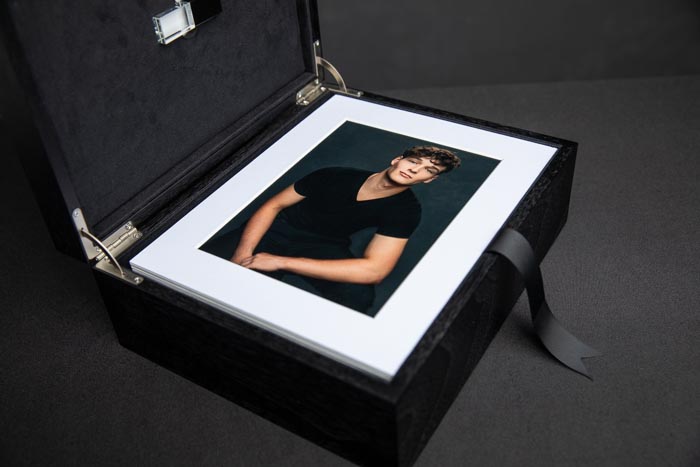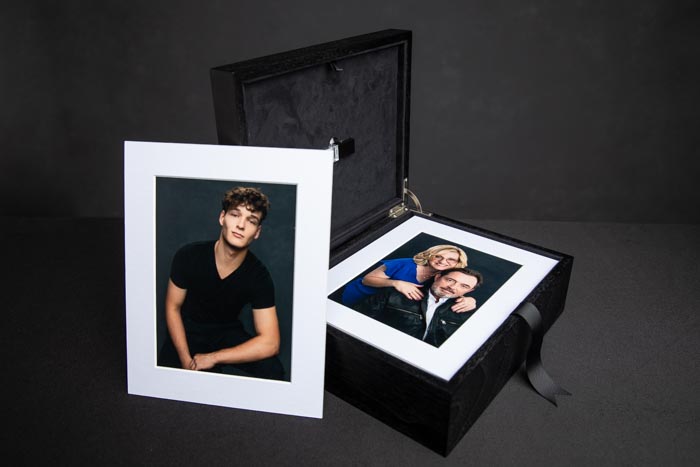 5 Portraits
$899
Value: $1245
10 Portraits
$1499
Value $2490
15 Portraits
$2199
Value $3735
20 Portraits
$2899
Video Slideshow
20% off Wall Art
Value $4980
25 Portraits
$3599
Video Slideshow
Matching B&W Digital Files
Complimentary Session
(within 12 months)
25% Off Wall Art
Value $6923
30 Portraits
$4199
Video Slideshow
Matching B&W Digital Files
Complimentary Session
(within 12 months)
30% Off Wall Art
Value $8168

Adorn your home with beautiful printed portraits.
Matting & Framing Available

Single Image
$249
6×8 print matted to 8×10
Matching Digital File
Additional Hair & Makeup
$149/person
Video Slideshow
Add-on to a collection
$399
Duplicate Display Case
50% of chosen collection